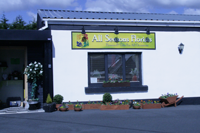 Placing flowers at burial sites is one of our oldest rituals. Evidence of flowers has been found at the earliest known burial sites. While it can be difficult to speak words of sympathy when saying goodbye, flowers need little verbal accompaniment. As symbols of compassion and kindness, funeral flowers promote a warmth and grace at a funeral.
Sharkey Funeral Directors offer a complete florist service through its flower shop All Seasons Florists. Should you wish to have fresh or artificial flower arrangements, bouquets or wreaths provided, Sharkey Funeral Directors offer a complete and professional floristry service.
All Seasons Florists is operated by Tom Sharkey & Sons Ltd. who have been Funeral Directors for over a century. Since the late 1800's and over four generations, the family have conducted funerals. As such, there is a long tradition and understanding of the role of floral bequests at funeral services, in the home of the deceased and in the church. All Seasons Florists carry a wide selection of silk flower wreaths and arrangements as well as offering fresh flower wreaths, bouquets and many other arrangements. Customised floral tributes are also a speciality, so please do not hesitate to ask for a floral tribute which reflects your own remembrances.
Wholesale funeral flowers
Sharkey Funeral Directors also offer for wholesale, our contemporary range of artificial funeral wreaths and bouquets in addition to our custom wreath creation service. Please complete our wholesale wreath enquiries form and we will contact you regarding your enquiry as soon as possible.
Contemporary Silk Wreaths
Silk Bouquets Made to your specifications
Custom Wreath Creation Services
Fast Turnaround time and Delivery
Competitive Pricing
Professional Service