The Sharkey Funeral Homes, provide quiet, comfortable and spacious facilities from which removals are conducted by our Funeral Directors.
Visits may be arranged at any time during the day or evening including weekends and public holidays, whenever is convenient for your family and friends.
Sharkey Funeral Directors have funeral homes in three locations, at Ballaghaderreen, Frenchpark, and Loughlynn, Co. Roscommon. These facilities are specially designed to host removal services. They provide ramp access to all areas of the home, a public address system to facilitate prayer services or other public speaking, toilet facilities and ample parking for funeral attendees. Sharkey Funeral Directors also host viewings for family and friends in their Ballaghaderreen viewing room.
Funeral home facilities include:
Ramp access
Hand washing & Sanitizing facilities
Video Streaming system
Queue management
Public Address system
Toilet facilities
Ample parking
Comfortable seating
Private Anterooms
---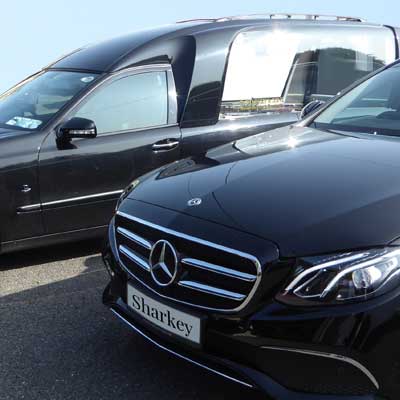 Sharkey Funeral Directors maintain all vehicles in pristine condition at all times. The current hearse fleet are Mercedes Benz, updated every four years and garaged year round at our Ballaghaderreen premises.
The last remaining horse drawn hearse used by Sharkey Funeral Directors is a Marsden Town Hearse. With horse drawn hearses, a city hearse is quite ornate and therefore heavier and was used primarily within cities and for short journeys.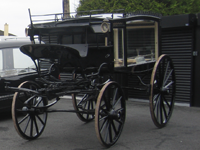 Sharkeys town hearse was used in the last century for most all funerals, with lighter country hearses used for long distance journeys.
It was built on the Harrow road in London at the turn of the century (c. 1900) and last used during the Suez crisis in late 1956.
It has since been restored to its original condition and may be viewed by request at our Ballaghaderreen Funeral Home
---
Showrooms are where a family may view the coffins, caskets and urns available.
Our showrooms contain carefully selected ranges of coffins, caskets, cremation urns and memorials. Our selection includes solid-oak, Italian and eco-friendly ranges of coffins. We stock solid wood and steel caskets as well as a wide range of cremation, funerary urns, and memorial products.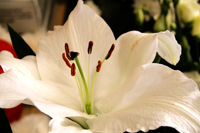 Embalming is the preservation of the deceased using special techniques and fluids which allow for the deceased to be viewed without interference from unpleasant odour and changes which occur after death.
Our facilities include a state-of-the-art embalming theatre which compliments our extensive embalming services. When arranging the funeral we advise on embalming and restoration services as appropriate.
---